Winter Weekend in the Central Adirondacks!
Saturday & Sunday, February 10-11, 2018

Cold weather got you down? Join us February 10-11 for a birding weekend in the central Adirondacks and see some birds that really know how to cope with winter. With a one-in-twenty-year bumper food crop on the trees of the Adirondacks, this is the year to see finches and boreal birds in New York State.
The weekend events include two field trips, a birding workshop, and the opportunity to socialize with birders from all over New York State.  For those able to arrive in Long Lake by 7 a.m. on Saturday, NYSOA will offer a pre-workshop field trip led by Joan Collins and Matt Young.  At 4:00 p.m. Matt Young will give a presentation on "Crossbills of New York: Status and Flight Call Identification."   A group dinner will be held at the Adirondack Hotel in Long Lake Saturday evening.  On Sunday morning, Matt Young, Joan Collins, and Mary Beth Warburton will lead the main field trip beginning at 7:00 a.m.
While the workshop is free and open to the public, both field trips are limited to 20 participants and pre-registration is required.  Registration is first-come, first-served with preference given to NYSOA members and youth members of the NYS Young Birders Club.  Read all the details and find out how to register and where to stay.
---
NYSOA 70th Annual Meeting and NYS Birders Conference
Hosted by the Buffalo Ornithological Society, November 10-12, 2017
More than 170 people from all over New York State and beyond flocked to Niagara Falls for this exciting 3-day event, masterfully planned and realized by the Buffalo Ornithological Society. Attendees enjoyed a variety of fun field trips with local birding experts as well as great presentations by ABA Big Day record-breaker and author Neil Hayward and pelagic bird tour guru Paul Guris. Winners of awards given by NYSOA at the banquet have been posted on our Awards page. Check back for a full report, coming soon!
NYSARC Special Report:
Five New Species
Added to the NYS Checklist, Fall 2017
Read Willie D'Anna's full report about these exciting changes, including the usual sighting and decision-making details included in every NYSARC Annual Report.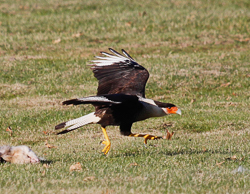 Crested Caracara
© Matthew Zeitler
Five new additions to the Checklist of the Birds of New York State were reviewed and accepted under NYSARC's Accelerated Review Policy that prioritizes well-documented sightings of species not previously recorded in the State. Since our last special report, the American Ornithological Society (AOS, formerly AOU) has demoted Thayer's Gull back to subspecific status as part of Iceland Gull, Larus glaucoides thayeri. Thus, the five additions bring the State list to 494species. In addition, one species was added to New York's Hypothetical List. Full details of the sightings and criteria for acceptance are provided in the new special report.
Willie D'Anna
Chair, New York State Avian Records Committee
New York State Ornithological Association
---
NYSOA Objectives
The objectives of the New York State Ornithological Association are to document the ornithology of New York State; to foster interest in and appreciation of birds; and to protect birds and their habitats.
NYSOA endorses the Code of Birding Ethics developed and promoted by the American Birding Association.

Membership
Individuals as well as clubs/organizations are welcome to join and will enjoy the benefits of membership, including subscriptions to NYSOA's quarterly journal, The Kingbird, and its newsletter, New York Birders. NYSOA also offers its individual members a discounted rate of $25 annually (40% off the regular rate of $42) for a subscription to the online version of the The Birds of North America.
Are you looking for information about birding in New York State?
Check out our directory of member organizations
with links to websites listing local field trips and other activities!
NYSOA is a 501(c)(3) nonprofit organization.