Democrat Point (Fire Island), NY / June 10, 2000

This first-summer (i.e., born in 1999) Arctic Tern (Sterna paradisaea) was initially spotted by Tony Lauro in a small group of Common Terns (Sterna hirundo) and Roseate Terns (Sterna dougallii) at Democrat Point at the extreme western tip of Fire Island. We were able to study the tern at leisure and I managed to take several minutes of video of the tern both in flight and on the ground, as well as a handful of photographs.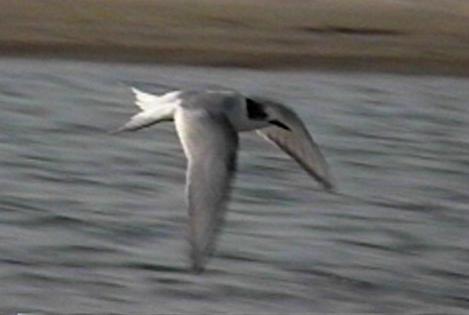 Figure 1 Though this video capture is a bit blurry, some key field marks in separating Arctic Tern from Common Tern can be seen. Especially helpful is the pattern of black along the trailing edge of the primaries. Here the thin and more sharply defined black trailing edge typical of Arctic Tern can be seen. Other features which help eliminate Common Tern of this age are the uniform uppersides to the primaries, due to the fact that first-summer Arctic Terns have already molted and all the primaries are the same age. First-summer Common Tern shows a contrast between the darker, worn retained primaries and the pale newer primaries. Arctic Tern also lacks the darker secondaries typical of first-summer Common Tern. Image copyright © of Andrew Guthrie, 2000.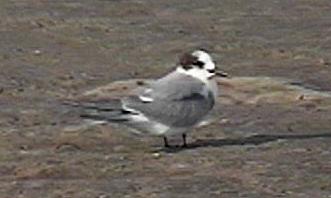 Figure 2 This video capture of the tern on the ground shows the extremely short legs typical of Arctic Tern. Other features which can be seen here are the relatively short, dark bill (in this image the bill appears even shorter due to the angle of the bird's head), the extensively white crown, and the uniformly colored primaries. Image copyright © of Andrew Guthrie, 2000.
---
Status in New York State
Arctic Tern is listed in Bull's Birds of New York as a very rare vagrant. of just over a dozen published records, six are described as "fully documented", including three specimen records and one photographed. Interestingly, the only spring record in this group is a specimen collected at Cayuga Lake, Tompkins Co., May 20, 1916. The remaining spring sight records range in date from May 14 to June 23. In mid-June 1999, after the publication of the updated Bull's, two Arctic Terns were found at widely separated Long Island locations on the same day - an adult at Sag Pond (T. Lauro) and a first-summer at Democrat Point (S. Mitra, P. Lindsay).
---
References
Levine E. (ed.) 1998. Bull's Birds of New York State. Cornell University Press, Ithaca, N.Y.
Olsen, Klaus Malling and Hans Larsson. 1995. Terns of Europe and North America. Princeton
University Press, Princeton, N.J.